Fear Not Patriots' Fans, Brady To Moss Is Okay
Courtesy of Bleacher Report: CLICK HERE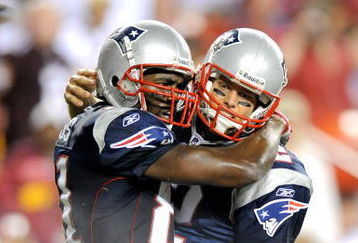 (Photo by Greg Fiume/Getty Images)
So basically everyone now is hearing about how Tom Brady was "hurt" last night by Albert Haynesworth "hit."
Let me first say that there is absolutely no need for defensive players to be following through like that on quarterbacks. It may seem that I am biased in this opinion, considering I am a Patriots fan, and obviously am sensitive about Brady's health.
Earlier in the game, Vince Wilfork made a similar hit on Jason Campbell, and my first reaction was to say, "what are you doing, Vince!"
Tom Brady is going to decimate all this year, as evidence by his clicking with Wide Receiver Randy Moss last night, when he was 12 of 19, throwing 150 yards and 2 TDs in two quarters. Both touchdowns were to Moss on two picture perfect plays.
With that said, we may not see Tom Brady next week, but know that this isn't going to keep him from embarrassing the Bills on Monday Night Football in a couple weeks. Here is why:
He reached out with his right arm to be picked up.
He swirled his arm around on the sideline afterward.
He was throwing the ball around as well. Showing no pain or grimace on his face.
The Patriots actually said something about it: "sore shoulder." This is a good, considering they would have had no comment had it been serious.
Chad Johnson Tweeted how he got a message back from Brady saying he was fine (they're friends).
Bill Belichick said today, "Tom had a desire to play, but we made a football decision to play other players because I think we need to see them at that position, and make an evaluation there. That's what I'm saying."
Tom is scheduled to make a radio appearance on WEEI on Monday, and in my opinion, had it been really serious this would not be happening.
Brady has been listed as "Probable-Shoulder" ever since he hurt that same shoulder back in 2002, and look what he had done since then.
Former Patriot quarterback Drew Bledsoe had a similar injury which only kept him out for two weeks.
Perhaps worrying about his shoulder, will help keep his mind of his knee and actually help him overall.
Fear not Patriots fans, this is only a troubled time for every Patriots opponent this year, considering Brady to Moss is in high gear yet again.
Courtesy of Bleacher Report: CLICK HERE